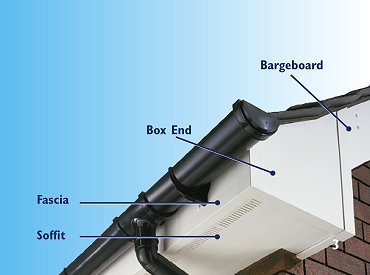 Your roofline is open to daily attack throughout the year. Maintaining the existing woodwork is not only time consuming, it costs money too.
Rotting roofline can really let your property down, and it can cause structural damage leading to woodworm and encourage vermin.
Roofline Benefits:
No more expensive re-painting or maintenance
Keeps water away, lets air in stopping rot
10 Year guarantee
No more struggling to get to those dangerous areas
Improve your home good look and add value
Options to suit all budgets
Range of colours
Replacing them with uPVC not only saves time and money on maintenance but also adds crisp clear sight lines to enhance the look of any home.
Choose a similar look to your existing fascias or go for something totally different – the choice, as always, is yours. Contact us and we would be more than happy to discuss your requirements with you.
Once the work is done you will never have to give it a second thought again.
Fascia and Soffit Gallery